Dutchman Motorsports designs and manufactures custom rear ends, alloy axle shafts, and related driveline components available on a global basis. Dutchman is a family owned and operated business since the early 70s, and for over forty years, Dutchman has focused on building strong customer relationships by offering quality products at a fair price, timely delivery, and exceptional friendly customer service.
Best known for their high performance street and racing automotive products, Dutchman Motorsports also manufactures axles and rear ends for industrial and original equipment manufacturers including, specialty vehicles, all-terrain vehicles, agricultural vehicles and heavy equipment. They have a large selection of off the shelf components including ring & pinion gears, limited slip posi-traction carriers and differentials, full spools, billet housing ends, wheel studs and bearings, bearing retainer plates, 3rd member cases and pinion supports, and complete assembled Ford 9" 3rd members.
Dutchman Motorsports manufactures and ships your order from their Meridian, Idaho machine shop and office facilities. They are able to provide customers with a wide selection of stock replacement and high performance custom alloy axle shafts, as well as specialty rear end assemblies and components, including brake kits and differential components from well-known national brands such as: Wilwood, Eaton, Wavetrac, US Gear, Motive Gear, RCV, and Strange Engineering.
For more information on Jeep, Chevy, Ford, Dodge, Mopar, Chrysler, and Dana stock replacement, aftermarket, racing, and off road rear ends, high strength alloy axle shafts, or for specialty OEM parts manufacturing, please visit our other web pages at www.dutchmanaxles.com or call (503) 257-6604
History
The Dutchman story began over fifty years ago in Portland, Oregon, when founder Keith did his first rear end and driveline conversion for his Olds powered '50 Chevy. Many other car projects led him to a circle track hobby in the 60s, and while racing on a short 1/8 mile track, Keith realized that in order to go faster, he would need stronger components to replace those which could not stand the pressure of short track racing. Breaking parts fostered the development of a product line for circle trackers, such as billet steel hubs, a 9" Ford floater kit (which had a bolt on spindle), HD-High RPM drivelines, and more. This was done under the "Flying Dutchman" company name in the late 60s and early 70s.
The manufacturing of the specialized race car components took place on evenings and weekends and caused the part time home business to grow from a two car garage to a full time business in a 3,000 square foot commercial building in the late 70s. The company sold products to local Portland customers and started gaining popularity among the local industrial/commercial businesses in the area. The Flying Dutchman then incorporated in 1977, and "Dutchman Tool & Machine Works" was formed. Keith retired from circle track racing and devoted much of his time to keeping up with the still growing machine and manufacturing job shop. Even though the industrial/commercial jobs grew to 80% of the sales, the business still did axle shortening, narrowed rear housings, bolt pattern changes, and HD drivelines, all in house.
Eleven years later, the business grew and needed more space, so Dutchman moved into a 6,500 square foot building, while still doing the same kind of work (80% industrial and 20% hot rod & race car related).
Enter son Todd, who by this time had worked in the shop for around ten years, learning and mastering every aspect of the axle, housing, and machine shop business. Todd's fresh vision and enthusiasm made 1990 a pivotal year for the Dutchman company, and with the growing interest in performance street cars, race cars, and off road vehicles, the need for a stronger-than-stock, strip legal, and street safe alloy axle came to light. The quest for Dutchman's own line of new forged alloy axles began. By 1992, Keith and Todd had tooled up the shop, secured a diverse line of axle blanks, and launched Dutchman Motorsports, Inc., the company known today that brings you the line of custom rear ends, alloy axle shafts, and related driveline components available on a worldwide basis.
Fast forward to today: Keith is enjoying a well deserved retirement, and Todd, along with his wife Tracey, operate and manage Dutchman Motorsports in their new 13,000 square foot building in Meridian, Idaho. The diverse product offering and strong customer base keep a dozen or so of employees busy year round. Through the years, Dutchman has kept the focus on building strong customer relationships by offering quality products at a fair price, timely delivery, and exceptional friendly customer service – and this is what sets them apart! Dutchman's success can be summed up in one simple statement: "We have never had the goal to be the biggest, just the best!"
One of Keith's circle track cars in the 60s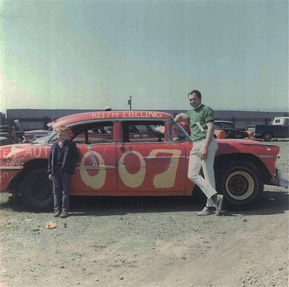 Early 70s garage shot
Original bolt on 9" Ford full floater kit
Original HD steel hub kit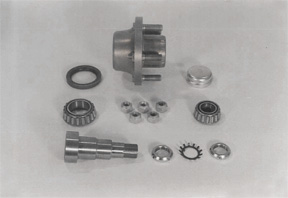 Race car running "Flying Dutchman" products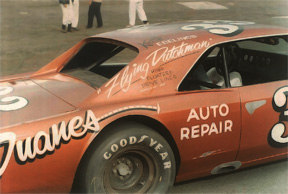 ---